I love being a wedding photographer in Austin because there are so many eclectic and beautiful venues here! Those who are looking to host a large wedding, an intimate affair, or simply to elope with their lover are bound to find the perfect venue that both accommodates their needs and fits their unique vibe. From the midcentury modern hotel of your dreams to a clean architect-built space in the heart of Hill Country, the Austin area has everything. So, keep scrolling for the lowdown on my favorite Austin wedding venues, and, of course, plenty of photo inspiration!
For Large or Small Weddings: South Congress Hotel
I have shot large weddings of over 100 guests, small weddings of about 40 guests, and elopements of two at South Congress. This venue can do it all, and is incredible for whatever direction you take! Its interior is modern, with mid-century desert vibes that really set it apart from any other hotel in Austin. Plus, it's situated in the heart of South Congress just minutes from the Texas Capitol, so your guests can take in the complete city experience.
From a photography standpoint, I should note that this venue is flooded with light and has so many unique backdrops both inside and outside that I use with my couples. So, if it's raining, we don't even have to go outside! South Congress Hotel also serves the most amazing food, so it's the perfect place to host your after-party and for your guests to stay so that everything can be in one place. Win, win, win.
For a Large Celebration that Feels Intimate: Mattie's
Mattie's is located in the heart of Austin among the most gorgeous live oak trees (they also have peacocks!). The house was built in the 1800s as a boardinghouse and has since been completely restored with modern touches—the teal walls upstairs make me swoon. Not only does it feature so many eclectic details, but also Mattie's is a top-notch restaurant with incredible food. It's really a best-of-both-worlds space for the couple that is looking for something historical and intimate but with the space for over 100 guests.
Bonus: It's close to all the nearby hotels, so your guests won't have to travel far to party with you.
Favorite Modern Venue with Hill Country Views: Prospect House
This venue is ideal for a wedding of over 100 guests to fill the large space. Modern white walls make it an easy venue to customize with your own color palette, flowers, and unique decor. To me, it feels just like an art gallery, and I love the clean lines and natural light! I especially love this space when decorated with lots of candles to warm it up and create a cozy ambiance.
Prospect House is something special because it's the only modern space built by an architect in the Texas Hill Country. This makes it ideal for the modern couple who would still like their wedding to spotlight the Central Texas landscape. In addition, the venue is just 30 minutes from downtown Austin. Many of my couples will opt to shuttle their guests to the party from central Austin hotels. It couldn't be more convenient!
For Intimate Weddings or Elopements: Hotel St. Cecilia and Justine's Secret House
Hotel St. Cecilia
Nestled right off of South Congress, this gorgeous hotel feels like a private getaway the moment you enter the gates. Greenery surrounds the grounds, and it really creates an escape from the hustle and bustle of the city. Accordingly, I have found that this space is perfect for both intimate gatherings and elopements! It fits the vibe of the cool couple who want something eclectic and very Austin, but also something classic with vintage appeal.
Justine's Secret House
This venue could not be more perfect for intimate gatherings. Their restaurant serves the most delicious French food, making the space perfect for foodie couples who love the feel of an old house with lots of character (think red walls, Andy Warhol photographs, and a collection of old furniture). It features a plant-filled courtyard to use during your ceremony and cocktail hour, as well as an indoor area ideal for a seated dinner and dancing.
The great thing about Justine's Secret House is that you can really make your event there your own. I've seen this venue done so many ways, with couples using different spaces for different purposes. Plus, it's located in East Austin behind a secret fence that you can't spot from the road, which makes it even more special!
Bonus: It's walkable from a number of East Austin Hotels. Several of my couples have gotten ready around the block and then walked to their ceremony, which was so lovely and convenient. You can also plan to host your after-party at one of the many nearby bars. A recent couple of mine went to Whistler's with their whole party, while another got matching tattoos then had their first dance at White Horse, a honky tonk bar. You do you!
Favorite Garden Venue: Laguna Gloria
When it comes to lush garden landscapes, Laguna Gloria stands alone, making it truly one of a kind among Austin wedding venues! The gardens surround a magnificent early 20th century home that is ideal for getting ready, after-dinner drinks, and dancing. Meanwhile, the winding pathways overlooking the lake below the home are ideal for a reception with long dinner tables.
Couples have their pick of several ceremony locations, depending on the size of their event. However, these are located outside, so be sure to plan ahead with a rain tent! All in all, Laguna Gloria is suited for classic couples who adore its historical and natural ambiance that cannot be equaled anywhere else.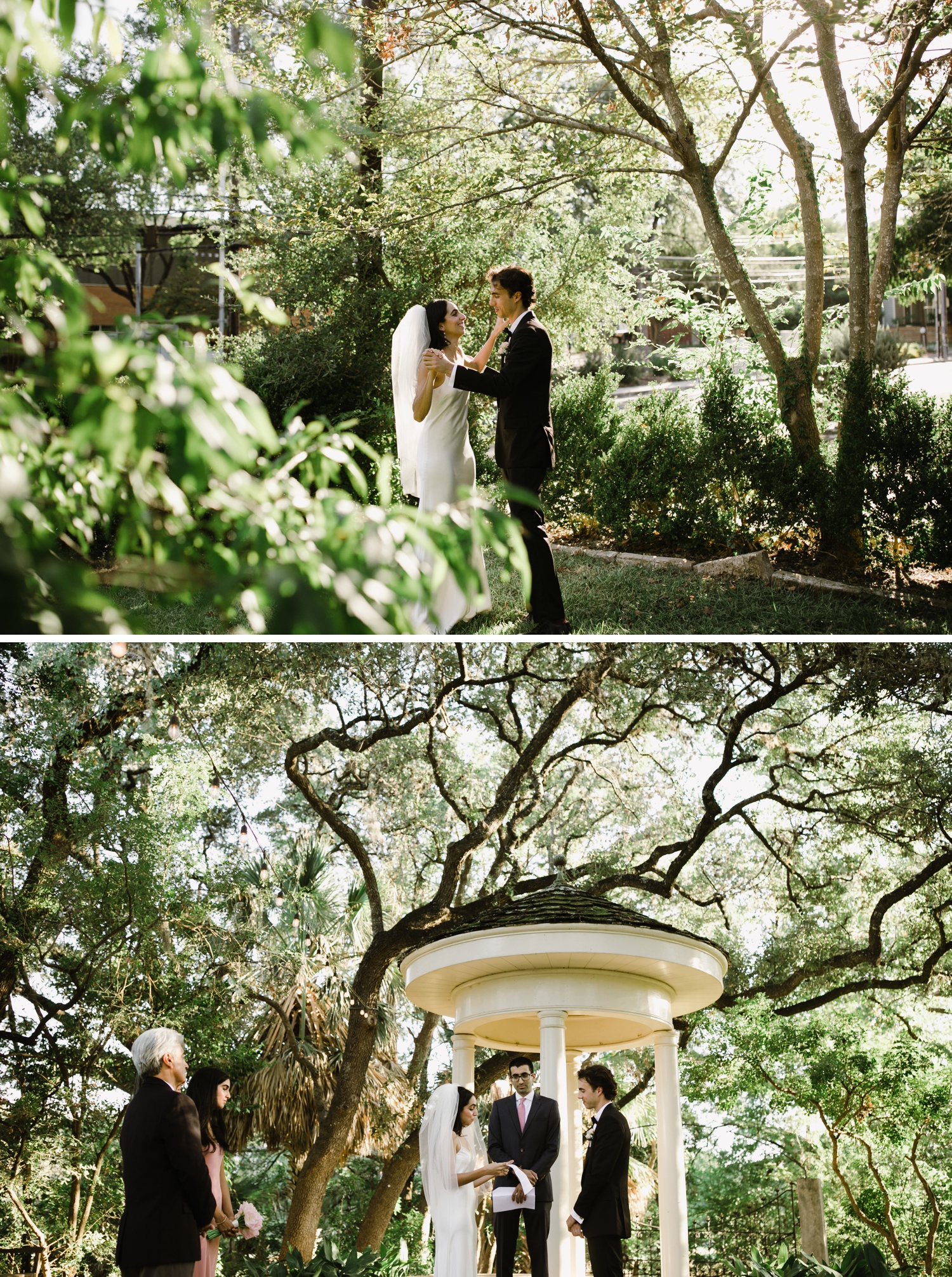 I hope my favorite Austin wedding venues have been inspiring for you as you begin to plan your wedding here! All of them epitomize the eclectic, artistic style that my couples tend to have, and which I love to capture. Does it sound like we're a match made in heaven? Contact me here to find out if I'm available for your wedding date (fingers crossed!).
Vendors: